FIELDPRINT STATION SITE NETWORK PARTNER PROGRAM
Who is Fieldprint?
Fieldprint, Inc., founded in 2004, provides fingerprinting collection and processing; badge photography and processing; remote processing services; and fitness determination and adjudication services to corporate and governmental organizations in an efficient, professional manner.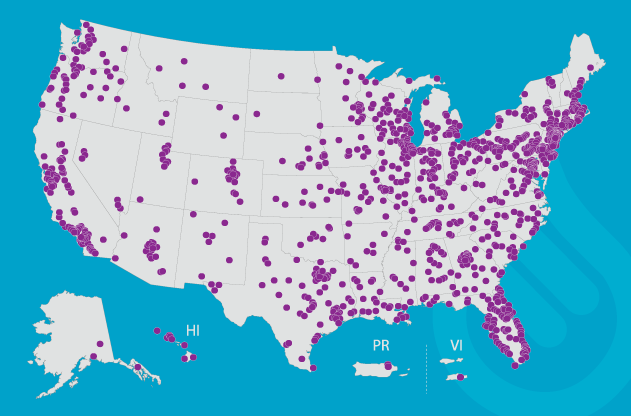 The Fieldprint Station Site Network is the only network of its kind that features locations in all 50 states, the District of Columbia, Puerto Rico, the U.S. Virgin Islands and select international locations. The Fieldprint Station Site Network is supported by a cutting-edge Web- and phone-based appointment scheduling system and a nationwide customer service call center.
Fieldprint is one of the few companies that is authorized to submit fingerprints directly to the FBI. Established connections are also in place with a number of federal agencies and regulatory bodies, such as the Financial Industry Regulatory Authority (FINRA) and the Nationwide Mortgage Licensing System (NMLS), as well as many state agencies.
Fieldprint is the sister company of Vertical Screen, Inc., a family of applicant screening companies founded in 1989 that provides background investigations, drug testing and DOT compliance services to leading organizations worldwide.
What is the Fieldprint Station Site Network Partner Program?
An opportunity to earn money from a new revenue stream with no upfront investment is every small business owner's dream. Fieldprint can make that dream a reality for owners and operators of retail business services sites.
Participating in the Fieldprint Station Site Network Partner Program generates a big payoff for retailers:
There's no upfront cost. You can get started quickly and begin turning a profit right away.
Having a Fieldprint Station in your store attracts applicants for professional positions, raising awareness of your other services.
We provide free background checks on all current and prospective store employees—the same service we've provided to Fortune 500 clients for more than 25 years.
Participants have Fieldprint's full support: We set up and maintain the Fieldprint Station, train your staff and provide ongoing phone and online support.
As a Fieldprint Station Site Network Partner, you have no marketing or sales obligations. We provide the clients. We have a dedicated sales team that sells our services to corporate and governmental organizations nationwide.
Click here to learn more about the program.
If you are interested in speaking with someone directly to learn more about the program or to schedule a meeting to discuss becoming one of our partners, please contact us at Partner@Fieldprint.com.
We only have good things to say about our experience as a Fieldprint Site. The station is simple to operate and the process is quick and user friendly. The support team is constantly pleasant, attentive and efficient. Overall, it has been a profitable business decision to join the Fieldprint Network and would recommend it without hesitation.
Working with Fieldprint has been a breeze. Their equipment is top notch, and their customer service has been fantastic. Payments are processed and received like clock-work. I wish all companies were as easy to work with.
The Fieldprint system for gathering fingerprints is a well-organized process. A straight forward schedule, easy to follow and easy to fulfill. Plus, the program is an added benefit to our bottom line.