News
Fieldprint achieves newest ISO 9001:2015 quality management system certification
Fieldprint is proud to announce our ISO 9001 standard certification renewal from ISO 9001:2008 to the newly-revised standard, ISO 9001:2015.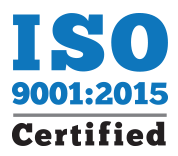 ISO 9001 is the world's most widely recognized quality management standard and helps organizations to meet the expectations and needs of their customers. As part of the ISO 9001:2015 certification process, BIG engaged in a rigorous audit of our business processes as well as our product quality environments.
As a previously ISO 9001:2008-certified organization, we have successfully completed the transition to the 2015 revision nearly two full years before the deadline to do so and became one of less than 5,000 companies to achieve the certification thus far.
By achieving this level of certification we continue to demonstrate our ability and desire to effectively and efficiently provide a quality management system while continuously improving our products and services as well as our internal processes.
Our experience with Fieldprint has been wonderful. As soon as we request something, it gets done, and all of our phone calls and e-mail requests are answered in a timely manner. The myFieldprint, administrative site is very user friendly.
I just want to tell you that I am very pleased with Fieldprint!!! Your process is very well thought through and very "user friendly".
Thanks for the great support!!!